Software Garden wikiCalc
®
Program:
wikiCalc Product Home Page
Spreadsheet editing in a browser

Makes great looking web pages

An Open Source Wiki-Spreadsheet

The wikiCalc program lets you make web pages with more than just paragraphs of prose. It combines the ease of authoring and multi-person editing of a wiki with the familiar visual formatting and calculating metaphor of a spreadsheet. Written in Perl and released under the GPL 2.0 license, it can easily be setup to run on almost any server as a web application or on a personal computer to publish by FTP.
NOTE:

wikiCalc was the basis for the SocialCalc products from Socialtext Inc. (in cooperation with Software Garden).

Updates to the code are now being done as part of the SocialCalc project. See SocialCalc.org, and the SocialCalc page on the Socialtext Open site. There are already major feature advances in SocialCalc 1.1.0 available there.
If you want to try it now, you will find information about how to download, run, and start using the wikiCalc program on the following pages:
ABOUT WIKICALC
DOCUMENTATION AND SUPPORT
Here are links to the major pages on this website that provide documentation and support for wikiCalc:
This page lists news about wikiCalc, new versions, etc.
This page lists some of the most frequently asked questions.
This page lists some of the known issues with various versions of wikiCalc.
This page provides an overview of the wikiCalc feature set.
A writeup of how wikiCalc can run on a server or locally, as well as how the directory structure is set up on the server.
This page shows you how to get acquainted with wikiCalc by downloading the right version for your system and then how to choose which configuration to use for "production" use.
This page tells you how to download, install, and invoke the wikiCalc program. It includes links to the latest version.
This page goes over the basics of getting wikiCalc configured and basic editing.
This page gives access to copies of the Help pages shipped with wikiCalc.
This page explains how to set up and use the Live View functionality.
This page explains how to set up and use the "Edit This Page" functionality.
This page explains how to use the embeddable ".js" files that wikiCalc can create.
This page explains the use of author-created HTML in cells as well as the interface to external web services provided by the wikiCalc wkcHTTP spreadsheet function. It also explains how to set up and use the WKCcallableUtilities.pl program which provides sample code for use with wkcHTTP to access data on other web pages and do very simple graphing. Some security implications are noted.
This page provides information about using wikiCalc with version 2 of mod_perl.
SCREENSHOTS
Here are some screenshots of wikiCalc running: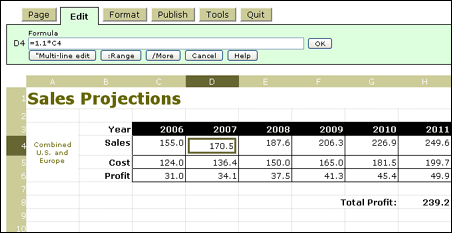 Normal spreadsheet cell editing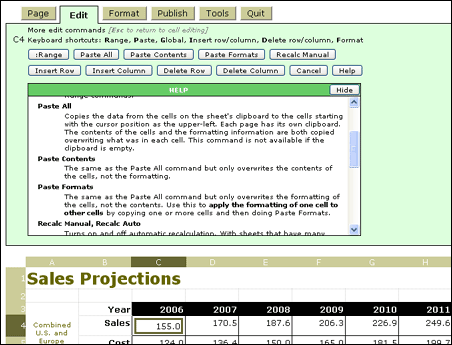 Spreadsheet editing commands and the Help system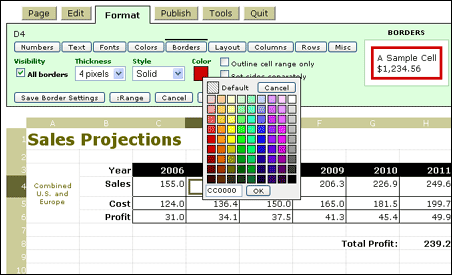 Cell formatting example